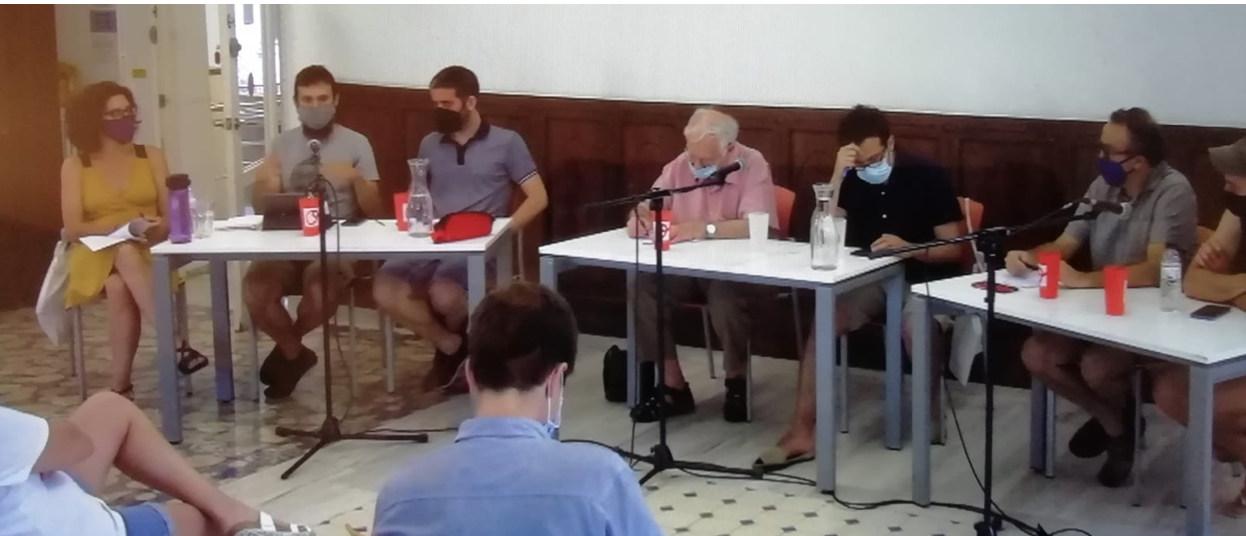 CAT
El passat mes de juny, en el marc de l'Escola d'Estiu de la Xarxa d'Economia Solidària (XES), el membre del CRIT Santi Eizaguirre, va participar en la coordinació d'aquesta taula de debat organitzada per la Comissió de formació i publicacions de la XES i la Xarxa d'Espais Comuntaris. La sessió de debat es va realitzar a la Casa Orlandai i va tractar els reptes de futur dels projectes de gestió comunitària en l'àmbit cultural. En el vídeo que us enllacem podeu accedir a la gravació de la sessió en la que es parla dels referents històrics de les experiències de gestió comunitària, els reptes de l'arrelament territorial de les pràctiques culturals amb mirada comunitària, el diàleg entre gestió cultural, comunitat i economia solidària, i el paper de les polítiques públiques en la defensa dels drets culturals i les aliances públic-comunitàries-cooperatives.
ESP
El pasado mes de junio, en el marco de la Escuela de Verano de la Red de Economía Solidaria (XES), el miembro del CRIT Santi Eizaguirre, participó en la coordinación de esta mesa de debate organizada por la Comisión de formación y publicaciones de la XES y la Red de Espacios comuntarios. La sesión de debate se realizó en la Casa Orlandai y tratar los retos de futuro de los proyectos de gestión comunitaria en el ámbito cultural. En el vídeo que os enlazamos puede acceder a la grabación de la sesión en la que se habla de los referentes históricos de las experiencias de gestión comunitaria, los retos del arraigo territorial de las prácticas culturales con mirada comunitaria, el diálogo entre gestión cultural, comunidad y economía solidaria, y el papel de las políticas públicas en la defensa de los derechos culturales y las alianzas público-comunitarias-cooperativas.
ENG
Last June, within the framework of the Solidarity Economy Network Summer School (XES), the CRIT member Santi Eizaguirre participated in the coordination of this discussion table organized by the Training and Publications Commission of the XES and the Community Spaces Network. The debate session was held at the Orlandai House and dealt with the future challenges of community management projects in the cultural field. In the video you can access the recording of the session in which the following topics were discussed: the historical referents of the experiences of community management, the challenges of the territorial roots of cultural practices with a community perspective, the dialogue between cultural management, community and solidarity economy, and the role of public policies in the defence of cultural rights and public-community-cooperative alliances.
LINK 👉