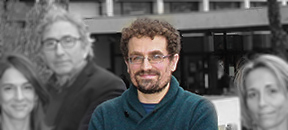 marcpradel@ub.edu
Department of Sociology
Diagonal, 690, Torre 4 office 4107
telf. +34 93 403 46 98
Personal webpage: www.changingcities.net
Marc Pradel holds a PhD in Sociology and is specialised in governance, with focus on social inequalities and citizenship in cities and regions. Between 2006 and 2010 he has been involved in different European research projects dealing with these questions. Since 2009 he is assistant professor in the department of Sociological Theory of the University of Barcelona, where he has taught subjects linked to migration, social structure, social innovation and governance. He is currently board member of the Research Committee of Urban and Regional Development of the International Sociological Association (RC21) for the period 2014-2018.
---
Lastest  publications 
Cano, A, Pradel, M, García, M. (2016) The case of Barcelona in Cucca, R. and Ranci, C. Economic development and scoial integration in Europe: urban policies in comparative perspective Routledge. Forthcoming
Pradel-Miquel, M. (2016) Kiezkulturnetz vs. Kreativquartier: social innovation and economic development in two neighbourhoods of Berlin City, Culture and Society http://www.sciencedirect.com/science/article/pii/S187791661630025X
Pradel-Miquel, M. (2015) Making polycentrism: governance innovation in small and medium-sized cities in the West Midlands and Barcelona metropolitan regions Environment and Planning C, 33(6) p. 1753-1768 Available at: http://epc.sagepub.com/content/33/6/1753.abstract
Pareja-Eastaway, M. and Pradel, M. (2015) Towards the Creative and Knowledge economy: Analysing Diverse Pathways in Spanish Cities European Planning Studies.
García, M., Eizaguirre, S. & Pradel, M. (2015) Social innovation and creativity in cities: A socially inclusive governance approach in two peripheral spaces of Barcelona. City, Culture and Society, pp. 1–8. Available at: http://linkinghub.elsevier.com/retrieve/pii/S1877916615000430.
Eizaguirre, S., Pradel, M., Terrones, A., Martinez-Celorrio, X., Garcia, M., Martinez, X., & García, M. (2012). Multilevel Governance and Social Cohesion: Bringing Back Conflict in Citizenship Practices. Urban Studies, 49(9), 1999–2016.
Martí-Costa, M., & Pradel, M. (2012). The Knowledge City Against Urban Creativity? Artists' Workshops and Urban Regeneration in Barcelona. European Urban and Regional Studies, 19(1), 92–108.
D'ovidio, M., & Pradel, M. (2012) Social innovation and institutionalisation in the cognitive-cultural economy: two contrasting experiences from Southern Europe. Cities, forthcoming
---
Research projects
(2015-2016) INNOSOGO Innovación social y gobernanza: retos para ciudades en transformación
(2013 – 2015) INNOVA. Innovación, creatividad y cultura: Definiendo las bases de un nuevo modelo socio-económico para una España post-crisis. Proyecto Coordinado de Investigación Fundamental no orientada. Ministerio de Ciencia e Innovación.
 (2009-2012) CREAURBS. Creatividad y conocimiento: bases para una nueva competitividad urbana. Proyecto de Investigación Fundamental no orientada. Ministerio de Ciencia e Innovación.
(2007-2010) ACRE.  Accommodating Creative Knowledge: the competitiveness of Metropolitan Regions in an enlarged Europe. VI Framework Programme. European Union.
(2007-2009)SOCIAL POLIS. Social platform on cities and social cohesion VI Framework Programe European Union
(2006-2009)KATARSIS. Growing Inequality and Social Innovation: Alternative Knowledge and Practice in Overcoming Social Exclusion in Europe VI Framework Programe European Union